For most people, the television plays an important part of their living room, which is why selecting the right entertainment center is so important. Not only does the entertainment center need to be functional, it also must be aesthetically pleasing.
When selecting an entertainment center, the first thing to consider is how large the unit needs to be. A good rule of thumb is to select a base that is at least 1 foot longer than the diagonal width of your television.
You can also ask your salesperson to provide you with the product specifications for the piece you are interested in. The specification sheets often list the size television that the piece will accommodate.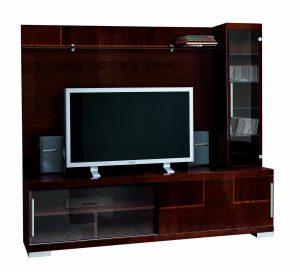 The next important consideration is whether to select a free-standing base or select a piece that has multiple components. The Capri Entertainment Center includes not only a functional base but also a shelving unit which houses the television quite stylishly. There's even additional room for books and décor.
For the television purist, free-standing bases allow the television to be the focus of the room while still providing ample storage for additional media components.  The Eva entertainment center is generously sized to accommodate a 60" television while providing concealed storage.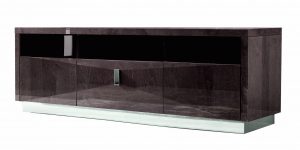 Coordinating media towers can also be added to your entertainment base for maximum flexibility and storage capacity. The Memphis collection from ALF offers incredible flexibility with options including a free-standing base, a base with library towers, or a complete entertainment system.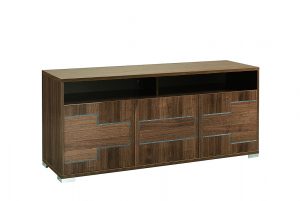 Memphis Entertainment Unit Base       
Library components allow you the flexibility of additional concealed storage in the tower bases as well as open shelving to display books and décor. The larger dimensions of this type of configuration work best in a generously-sized room.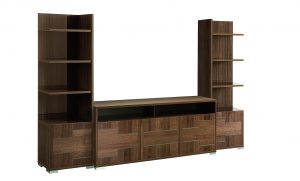 Memphis Entertainment Center and Library
A complete entertainment unit includes a coordinating wooden back which is pre-drilled to hold the cords. This type of configuration provides maximum storage and a seamless look.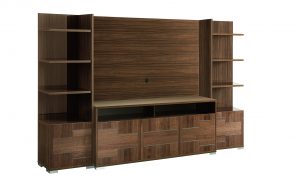 Memphis Entertainment Center Complete
Once you've decided what type of configuration best suits your needs, you need to decide what style of entertainment center to select. Finishes range from high-gloss enamel to sleek, inlayed wood and everything in between. With so many configuration options and styles available, you're certain to find a system that meets your needs.