No other room better encapsulates the soul of a home than the dining room. It is a place of family bonding and feasting. It is a place full of life where the entire family gets together to dine and celebrate. It is an ideal room to entertain guests and hold lively parties. The way you design and decorate your dining room says a lot about your aesthetic sense as well as your hosting prowess. Whether you are designing a dining room in your new house or revamping your old one, keeping the following things in mind can help your dining room stand out:
Focus on Lights and Paints
Lighting and vibrant paint colors can help you bring to life the theme you have in mind for your dining room. If you are going for a rustic design, warm lights with shades of orange and red on the walls can create a welcoming living room. Modern and minimalistic look can be obtained through bright lights and neutral wall-paint. If you are hoping to achieve a luxurious feel, opulent light fixtures, like chandeliers, can help immensely.
Get Quality Furniture
Depending on your desired theme, the needs of your family and the space available in your dining room, you need to choose your focal point, which is the dining table, wisely. Modern dining tables come in various shapes and sizes. Small round tables can give you plenty of room to work with, while elongated rectangular tables can have a dramatic impact. The size and number of modern chairs should also complement your overall theme.

Extra Storage
A dining room does not only need dining table and chairs. Supplementary furniture, like curios, buffets and open cabinets add extra personality and provide the much needed storage space. You can use these useful pieces of furniture to display your plates and dishes as well as to serve food. In order to ensure cohesiveness, it is better to purchase complete dining room sets with the necessary supplementary furniture.

Placement
In order to make the most of your dining room, you should pay attention to where you place the furniture. The dining table is the focal point, but it does not have to be in the centre of the room to attract attention. The dining room should have an easy and natural flow to it. The furniture should be arranged in a manner that makes it easy for everyone to move around.
Pleasing Decorations
Candles, flowers and other decoration pieces, placed on the dining table as well as on the buffets and credenzas can elevate the mood of the room. Inspirational artwork or a well placed mirror can do wonders to make your dining room look more sophisticated. Floor length curtains in a colour that goes well with your theme, can also enhance the overall feel.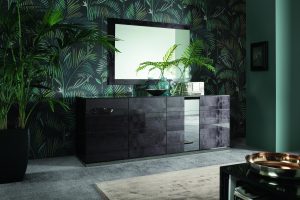 You can make your dining room stand out by following the above-mentioned tips.