A bedroom is the most intimate and personal room of any house. A well-designed and smartly decorated bedroom serves as a dreamy retreat and a recluse. A modern bedroom lets you dwell in luxury and forget about all the worldly worries. It is important to decorate your bedroom in a way that offers plenty of comfort without compromising sleekness and style. Italian décor is known for just that.
Embellished yet elegant, Italian furniture can bring life and liveliness to your bedroom. Italian décor is simple, comfortable, luxurious and elegantly grand, a perfect marriage of sophistication and opulence. With a personality-rich bed as a centerpiece, and fashionably placed chest, dresser, mirror and a nightstand, a bedroom decorated with Italian sensibility is luxurious without getting stuffy. Italian is the way to go when it comes to bedroom décor.
Function and Style
The Italian concept of a beautiful piece of furniture is one that is marvelously designed and offers utmost utility. You can infuse your bedroom with this perfect marriage of functionality and style by getting lavishly embellished Italian beds with hidden storage as well as the sleek chests and dressers with spacious drawers. Creative lighting of the bedroom and ingenious interior design can add to the functionality and charm of the furniture pieces.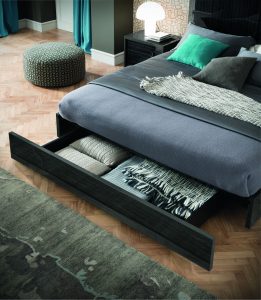 Minerva Bed with Storage
Highest Quality Furnishings
Whether you want to give your bedroom a rustic and traditional look or a minimalistic modern look, Italian furniture offers many choices. With good quality Italian furniture, you are guaranteed well-crafted furnishings, as it is the result of the hard work of detail oriented connoisseur artisans. Be it Leather or Walnut Canaletto wood, every material is treated to give an unmatched quality to furniture.
Tradition and Modernity
The modern contemporary furniture with a perfect infusion of traditional design nuances, promise to take your bedroom décor to another level. Regardless of your sensibility and taste, you are sure to find something that inspires you in Italian décor. You can choose from glossy wooden finishes and solid and modernistic features. Beds with lavishly padded and upholstered headboards combined with streamlined support furniture offers inspiring juxtaposition.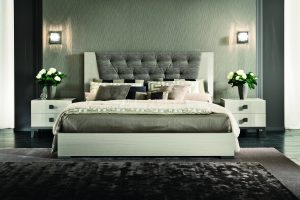 Mont Blanc with Upholstered Headboard
Layered Décor
Italian décor encompasses all the different elements of design. It suits people with different style needs and outlooks. Great textures and masterful detailing is the hallmark of Italian design. Yet the modern contemporary furniture adds minimalistic flair to it. Whether traditional or modern, Italian furniture is never short on personality. Decorating your bedroom with it can inspire you to create a truly comfortable and personal space for your precious snooze.
It is obvious that if you are decorating your bedroom, Italian décor is the only way to ensure you are doing it right!