The time has come, you realize your current entertainment center is dated and old. You want something to expresses your personality and works with your lifestyle. Something clean and modern, something with flair, and dare we say it – STYLE.  YES, you cry, yes, that's what I want! But, how do I get it? Where do I start? Fear not, we are here to offer guidance in choosing the perfect media unit for you. We will take you step-by-step through the process of selecting a functional entertainment piece that not only meets your needs, but also expresses your personal style.
Let's start with the basic differences between a TV stand and an entertainment center.
A TV stand is usually a single piece of furniture, built for a one purpose – to support a television set. It may include shelves to accommodate components such as cable boxes, DVD players, etc. Many TV stands also include drawers for storage. For the most part, however, TV stands are utilitarian, and not meant to be a focal point in terms of a room's design. These compact pieces fit well in smaller rooms.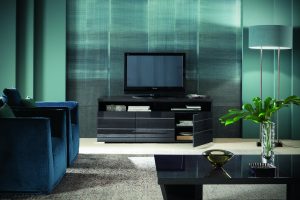 An entertainment center (also called a wall unit) is usually a large piece of furniture (or several pieces of furniture that integrate into a single unit) designed to create a focal point in the room.  Entertainment centers are frequently equipped with shelves, cabinets, and drawers for storage. They are intended to showcase the television and its companion components, including cable boxes, DVD players, home theater systems, speakers, etc. Typically the entertainment center is also used to display other decorative pieces, such as framed photos and family mementos. Many entertainment centers feature crown molding, glass-front doors, and integrated lighting that simulate the look of a built-in piece. These larger systems are meant for wide or open areas, or can be fitted into an existing media niche, which are commonly found in contemporary homes.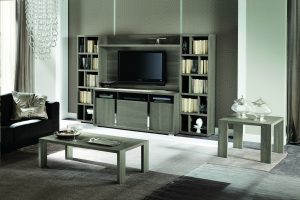 Ready to start shopping? Not so fast. Have you measured yet?
Measuring is a critical step in selecting the appropriate unit. And there are several areas that need to be measured. Grab a tape measure, pencil, and paper and get busy.
The first thing to consider is placement. Specifically look at the area where you want to locate the piece. Take into account any windows, doors, air registers, radiators, and electrical outlets. Sketch a rough diagram of the area, noting the locations of these obstacles. Consider the location of the cable outlet if necessary, and make sure the cable is long enough to reach the proposed location. If you can avoid it, don't place the TV in front of a window. Not only will it block the natural light coming into the room, but the backlight will make it difficult to see the screen.
Once you have determined the best location, measure from the wall to your seating. Optimum viewing distances depend upon the size of your TV, and these ratios have a direct impact upon your viewing experience – too close and the images will be in-your-face uncomfortable; too far and you will be squinting to see the screen. Follow these guidelines for optimum viewing distances:
If your TV measurement is:                                                 your viewing distance should be:
29" or less                                                                                     3 – 4 feet
39"                                                                                                    4 – 5 feet
46"                                                                                                    5 – 6 feet
50" or larger                                                                                7 – 8 feet
A note about seating: For comfortable television viewing, the bottom half of the screen should be level with your line of sight when seated. The bottom edge of the screen should be no lower than 12" below that measurement.
Measuring the TV
In order to select the best unit to fit your needs, you will need several measurements of the TV. You will need the screen size (the measurement featured on the box). This number denotes the diagonal corner-to-corner measurement, which will be helpful when shopping, as most units will note the size of TV that can be accommodated.
Next, you will need the physical height and width. If you plan to mount the TV to the wall (or to a panel of the entertainment center) you will need to measure the actual dimensions of the device. You can't rely on the screen size, because manufacturers utilize different frame sizes, so not all 50" TVs are the same physical size. The frame that encloses the screen is called the bezel, and you will need to measure both the height and width of the bezel and write it down. If you plan to utilize the TV base instead of mounting the device, you will need to measure from the bottom of the base to the top of the TV bezel.
If you have a flat screen TV, the depth is negligible, as these devices fit almost any TV unit. However, if you have a traditional CRT TV, you will also need to measure the depth to make sure the furniture you select will accommodate the TV with no overhang. Having a significant portion of the TV over hanging the front of the unit poses a serious safety hazard, and should be avoided.
Style
For some home decorators, this is the fun part. For others, choosing a suitable style is pure agony. Here at Rosner Home, we specialize in sophisticated, modern, contemporary furniture.  What that means for you is a wide array of colours and finishes, all featuring fine Italian craftsmanship. No matter what you choose, it will be sturdy and beautiful, with clean lines and innate style. Our selection includes twenty complete collections, so you have the flexibility of choosing just one piece, or an entire suite of coordinating furnishings. Additionally, many of the TV units can be customized with a variety of components, so you get exactly what you need. And if your needs change in the future, you have the option to build out your unit to satisfy your requirements. Our associates will be happy to help you select the appropriate styles and finishes for your specific needs.
Selecting the appropriate media center for your home is not difficult; it's simply a matter of understanding your needs, and taking the correct measurements. By investing the time to measure, you will guarantee that the unit you select will not overwhelm your space. In addition, if you follow the viewing guidelines, the result will be a very enjoyable viewing experience. Couple this small amount of pre-planning with the beautiful Italian finishes in our collections, and you will derive maximum pleasure from your furniture for many years to come.