The benefits of purchasing furniture from a quality manufacturer like the ALF Group are significant. You can be assured the pieces you select will last for many years while maintaining their beauty. Making the investment to purchase furniture crafted using time-honored methods paired with modern technology gives consumers piece of mind. They know that their purchase will be one that provides comfort, incredible style, and lasting quality from a company that has been creating modern Italian furniture since the 1950s.
Since their beginnings, the ALF Group has been committed to producing furniture using innovative technology. This commitment ensures the consumer will not only enjoy a beautiful piece of furniture, but will also have pieces created using the most innovative processes. These innovations give the consumer confidence that the production methods used to create their furnishings are technically sound.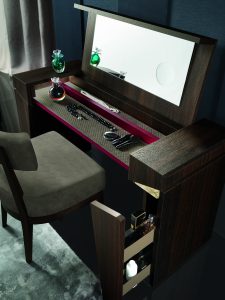 The Academia collection vanity is just one example of the combination of style and technology that consumers can expect from ALF furniture. Concealed hinges, thoughtfully appointed interior linings, and lighting systems set this vanity apart from other products.
The collections offered by ALFa include modular systems that rely on these innovations to give the consumer maximum flexibility in both configuration and performance. Lasting mechanisms and quality production methods ensure all pieces will function smoothly and seamlessly together. The office groups and entertainment groups offered by ALFa shows their commitment to providing consumers with stylish and functional systems.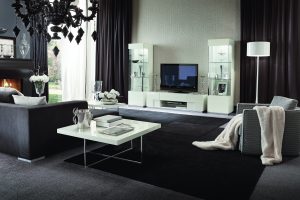 Browse Canova Entertainment Units
In addition to using innovative technology in its production processes, the ALF Group is meticulous about selecting the finest raw materials to create their furniture. By sourcing the best woods and lacquers from Italy and throughout Europe, the ALF Group maintains its high level of quality-control while creating pieces that have lasting beauty. The walnut finish of the exquisite Garda dining group truly shows the type of beauty and quality consumers can expect from the ALF Group.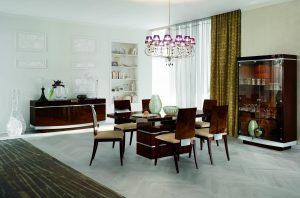 The ALF Group also keeps up with the current trends in design to ensure their furniture is current, stylish, and modern. While the company is always looking forward, they still honour the craftsmanship of the past and create fine Italian furniture that will stand the test of time. By making an ongoing effort to stay abreast of trends and understand the contemporary lifestyle of today's consumer, the ALF Group continues to bring the latest in innovative and stylish furniture to the market.